Department of Hospitality Management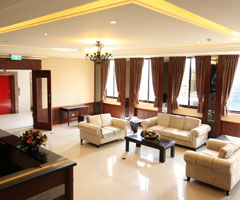 Our mission:
The Hospitality Management program is to prepare professionally competent individuals who will make a contribution to the industry and to the society as a whole.
Degree offered:
Bachelor of Science, Hospitality Management
Expected learning outcomes from program:
Understand and analyze the functioning of hospitality operations.
Prepare and implement operational sales and marketing techniques in various hospitality management settings.
Plan, implement, and appraise a full-function foodservice event.
Understand and analyze the mechanism for maintenance and operation of physical plants in hospitality properties.
Demonstrate best practices in the operations of hospitality management to meet customer expectations.
Gain practical industry experience prior to graduation through an internship and other work experience.
Our Faculty:

An outstanding faculty of industry professionals who have spent years of "doing what they teach".